real madrid vs barcelona copa
revelated
Apr 27, 08:40 AM
And once again people give Apple a pass for something that is clearly an issue.

You mean to tell me that Apple, a company that seems to release fairly solid software, "neglected" to test that when disabling an option called LOCATION SERVICES, that it actually disabled location checking properly? Are some of you really so Jobsian?

Call a spade a spade. There's no possible chance this was a mistake. They got caught. They should not be given a pass over it. If a user opts to disable Location Services, they were working under the false impression that their location was no longer being tracked. Seems mighty shifty to me. Doesn't matter how much data might have been user-identifiable. This sounds like something Google would do, not Apple.
---
real madrid copa del rey final
Man do these stories bring out the ignoranus fanboys. IMO if you have never owned both an Android phone and an iPhone, you shouldn't be allowed to comment because 99% just can't be objective about it.

Now, I'll hop on my pedestal and say I owned the original Moto Droid, and now own an iPhone. The ability to customize your experience on a droid is what I found so attractive, and Google isn't taking that away, so IMO this story is nothing but good for Android. Better control, more polish, yet the same customization capability that the majority of everyday users want. All of the iBoys tooting their horns and patting each other are doing so for absolutely no reason.

With that said, the polish of the iPhone is what I love the most about it, and if I could pair that polish with Androids ability for personalization of my device without jailbreaking and their much superior notification system, it would be the perfect phone. The next device to get it all right gets my money, whether its apple or Google.

Polished like the pure Google, "optimized from the ground up for tablets" Honeycomb running on the XOOM right now?

Yikes.
---
Real Madrid v Barcelona
Well I for one was kind of disappointed. Leopard is sort of Apple's chance to prove they can out-Vista Vista, and I'm not really sure what we saw today does it. I've been following Vista somewhat closely, and it really does catch Windows up to OS X in terms of features and prettiness.

I really think most of the features shown off today are already present in Windows (I've definitely heard about all of them before) or will be in Vista, and it's too bad Apple didn't have anything truly innovative to show us. Hopefully those secret features are something good...

The other thing that has me a little concerned is the huge amount of Vista-bashing that went on. I feel like if Leopard at this point were truly better than Vista, they'd be silent about Vista entirely and let the new system speak for itself. That would be really slick. That's not what happened however, and instead there was a lot of "look what Vista copied from us" and "check out how much better Leopard is." What I saw today, though, makes the former statement sound whiney and the latter sound foolish, since in my eyes, in terms of features, they're about on-par with each other.

I really hope Apple pulls it together. They've got to do this right, because come next year, most of the myriad reasons for switching to a Mac will be nullified by Vista.

BTW: whoever this "Platform Experience" guy is, get him off the stage and go back to Steve.
hmmm, most of the features are already in windows? what version of windows do you have? are you from the future? and, ummm, who knows what's going to be in vista because it keeps changing...even what you see now may not make the final cut. to say that the two OSs are the same because they both have the same features is akin to saying that a yugo and a mercedes are both the same because they both have four wheels and an engine. look, there are things that vista will have that osx will lack...there are things in osx that vista will lack. neither os will be perfect. still, os x is great because of its underlying architecture and not only b/c of this feature or that feature.

and most people will not be making their buying decision on which os is better...the greater selling point on the mac is boot camp and booting windows on the mac. most people aren't going to care what os is better.
---
real madrid vs barcelona copa
bedifferent
Apr 27, 09:57 AM
Then why are you telling me to worry about Japan and the jobless americans instead of the iPhone location database that Apple needed to address and did to my satisfaction ? :rolleyes:

Newsflash, I can do both and did!

What does this have to do with priorities ? Like you said : I can do both.

No, you didn't.

What was your point really ?

Wirelessly posted (Mozilla/5.0 (iPhone; U; CPU iPhone OS 4_3 like Mac OS X; fr-fr) AppleWebKit/533.17.9 (KHTML, like Gecko) Version/5.0.2 Mobile/8F190 Safari/6533.18.5)

Why do people care? I have nothing to hide, and I'm surely not enough "important" for Apple to track me step by step!

This was my point (and I think I was pretty clear when I mentioned priorities and reality). If you don't agree, move on, no need to get your panties in a bunch, just don't comment (I'm sure there are a lot of comments you disagree with so why are you gunning for me?). Moving on here, better things to do and this is a pointless matter you're making into an argument...

You gots some demons in you chil'...
---
to tomorrows Copa del Rey
But the government allows automakers to install black boxes in your car. In which the data could potentially be used against you.
---
We are Copa del Rey finalists,
In other news, Merom this, Merom that, just make sure you get it out on time Apple :p

...and with quality.

Enough of these crappy shortcuts and horific QA Apple; we're premium buyers. Or maybe you didn't notice how well Dell is doing nowadays.

You're screwing up, intel. We don't want 300 trillion transistors on a 1 nm die. We want longer battery life. Idiots.

Agreed. I still think Intel doesn't get it. Yes, faster is good. But Intel has been paying lip service to the 9 - 10 hour battery life for about a decade now.

Only problem with that is that a 2.33 GHz Merom chip will be fifty percent more expensive than a 2.16 GHz Yonah is today. So do you think Apple will increase prices of the MacBook Pro by $150 to $200 or reduce their profit?

Wrong. Just wrong.

Google is your friend. Learn some facts before you post.

Yippee.....
Definitely buying a MBP asap.....not gonna wait for santa rosa!

Me too. I am sure I could squeeze out another 9 months with my 17" PowerBook--which is less than 1 year old--but I think it's time to get with the future.

It's a pretty easy decision given how much faster the Intel Macs are.

Old, but still funny. A little :p

Only if you have no sense of humour! :p

Nothing would make me happier than for the new MacBook Pros to be shipping early next week. And with all of the quality issues worked out.

My expectations for the next generation 17" MacBook Pro:

2.33 Core 2 Duo
Better GPU
160gig HD
Higher quality displays. No more of this uneven backlighting crap.

My hopes:
Longer battery life
Get the power adaptor below 70 watts so we can use them on planes
Lower price

Hell, I'm buying whatever comes next. I just hope there are some solid spec bumps across the board.

And most importantly, I hope Apple fixes the crappy quality issues that have been plaguing their portable line all year.
---
FC Barcelona vs Real Madrid
gorgeousninja
Apr 19, 04:36 PM
How can this be that 'Apple have a pretty strong case' when so many posters have said that whatever Apple does is generic, and that they have never designed or innovated anything?...

Oh! Ding!!

Must be cos they are all talking cr*p....
---
Spanish Copa del Rey
I think this IS a privacy issue. That data could end up in the wrong hands. Does anyone store a text document on their iPhone with a list of their bank details and passwords? No, because it could end up in the wrong hands. So could this data that's being collected.

This data shouldn't be recorded without permission, no matter what's being done with it.
---
real madrid copa del rey final
Intel did indeed force Apple to use their IGP by not licensing other vendors to provide IGPs. The reason the MBP 13" and MBA 13" use IGPs and not dedicated GPU is one of space. Apple can't magically conjure up space on the logic board.



I push the GPU more often than I push the CPU on my MBA. I doubt I'm in the minority, though I'm probably part of the minority that actual knows this little fact. ;)

No matter how much you try to spin this, Intel got greedy on this one and couldn't back their greed with competence. They have sucked at GPUs since they have been in the GPU game (Intel i740 anyone ?).

I don't think 2IS is getting that IF Intel allowed Nvidia to continue making sandy bridge chipsets, Nvidia could've easily integrated a 320m successor into the south bridge. This would give you the best of both worlds, the downclocked Low-voltage Intel HD graphics when on battery or basic surfing, or the 320m successor in the south bridge when playing games or aperture photo editing. All this WITHOUT raising the motherboard chip count that putting a separate discrete (on it's own, not integrated into the chipset like 320m) would entail.
---
real madrid copa del rey final
the vocal minority are always the ones who have problems :rolleyes:

So in other words, the squeaky wheel gets the grease? ;)
---
arcelona vs real madrid copa
Dr.Gargoyle
Aug 11, 03:30 PM
I don't get nearly as many dropped calls when switching between towers like I did when I used T-Mobile and Cingular.
You know as well as I do that has to do with the signal, not whether it is Code division or time division. If you claim differently, show me reputable references.
---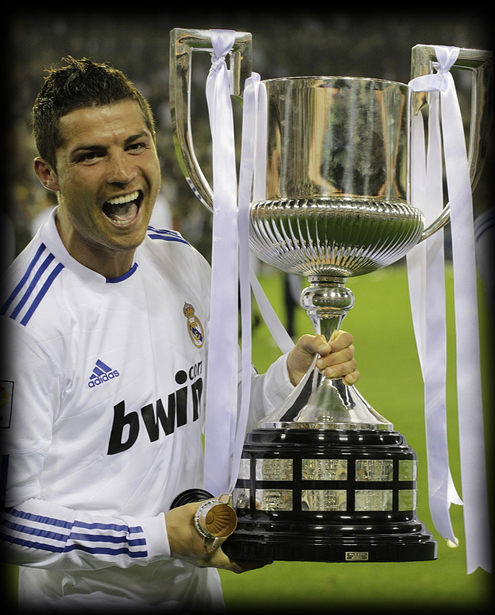 fc real madrid 2011 copa del
matticus008
Nov 29, 08:32 AM
I question any law/contract of this type on several grounds:
1 - How are the eligable rightsholders identified/compensated?
It depends on the system in place. In Canada, I believe the proceeds are turned over to the CRIA which is then responsible for distribution to its members through a process of their own selection (and not legally specified).

2 - How are they compensated equitably? Do you compensate Jay-Z and a classical artist the same? Which ever you prefer, Jay-Z sells more.
Again, it's up to the labels to decide. Once they get their cut from the CRIA, the label controls distribution within its internal channels. More popular artists on that label probably get a bigger cut than niche artists, but more importantly, individual artists likely never see much in the way of proceeds from this.
3 - If I've paid the royalty, don't I own rights to the music? Sure, I may need to find a copy of it, but I'm told that they're all over a thing called the "internet".
No. Most importantly, the royalty does not create a stipulation, or even a fiduciary relationship between you, the customer, and the CRIA. The exchange is between the company (Apple, RCA, Samsung, Microsoft, etc.) and the industry consortium.

Even setting that aside, you have no record of a transaction taking place at all. You can't claim to have paid royalties and have received nothing in return granting you any rights (one way to fight this is to demand that a given label supply you with a written document). Absent consideration, all you've essentially done is paid money for nothing--you didn't send the label a contract with your dollar (and you can't, since you're not paying them the dollar anyway, you'd be paying Apple). Your contribution isn't so much because you're pirating music, but because you could be. It's like putting down a deposit, having to pay insurance, or having a membership in a book club. You pay money, but that's not the end of the transaction. The only thing this royalty grants you is a tacit guarantee that Universal will continue to provide digital content.
---
real madrid copa del rey 2011
As for using a Dell, sure they could've used that. Would Windows use the extra 4 cores? Highly doubtful. Microsoft has sketchy 64 bit support let alone dual core support; I'm not saying "impossible" but I haven't read jack squat about any version of Windows working well with quad cores.

Bad dual core support? Citations please. I think this is a case where a Mac fan is simply speaking out of ignorance of their "enemy" platform.

I've been using dual processor Windows computers for a few years now and it works fine, I can't imagine dual core being any different. For quad core, I think THG showed that a Kentsfield showed significant performance benefits over a Conroe for many Windows programs. The media encoders showed very nearly a 2x performance difference.
---
real madrid copa del rey
Sleep walking a lot lately?

Nope. However, here are just a few threads detailing the behavior. I have to believe that this location issue is part of this problem... I guess we'll see when the "fix" is in....

http://forums.macrumors.com/showthread.php?t=989469&highlight=att+data+usage

http://forums.macrumors.com/showthread.php?t=926618&highlight=att+data+usage

http://forums.macrumors.com/showthread.php?t=1064116&highlight=att+data+usage

http://forums.macrumors.com/showthread.php?t=1050560&highlight=att+data+usage
---
goal secured Copa del Rey
mmmcheese
Aug 15, 12:18 PM
I did...:D

DIE POWER PC...DIE!!!

(sideshow bob)The Power PC...The!!!(/sideshow bob)
---
FC Barcelona Copa Del Ray
AppleJustWorks
Aug 26, 05:19 AM
in my experience, their support has always sucked..even from day 1 with my first PowerMac G5 back in 2004.

Let's see...

PowerMac G5 arrived with a defective superdrive, miscalibrated fans. The genius 'couldn't hear the fans', and accidentally put the repair in someone else's name, so when I tried to pick it up, I had to haggle to get it. Oh, and when I did finally get it, the superdrive was still broken. Super...

Cinema Display arrived with 7 dead pixels...I know this is a touchy issue, but the problem with their support regarding it was that none of them knew the actual number to replace it at. The phone people told me 5, the store (after the 45 minute drive there) told me 15, and another rep (who finally replaced it) told me 3.

iMac G5 had a defective power supply on arrival--would shut off randomly, some times not turning on. They refused to acknowledge this the first time we were there...the second time we were there...third time...fourth time they gave in--by saying "we'll keep it overnight." They still.."couldn't find a problem." When they gave it back, it worked for..two weeks, then the fans started being wonky. They couldn't hear that the first or second visit, on the third visit they took it overnight, "couldn't hear any audible issue", but it shutdown on them. I guess taking our word for it, they replaced the fan assembly, logic board, and power supply. Worked for a month, now it still shuts down.

MacBook Pro had the defective battery (random shutdowns), now fixed. Also, I had the screen buzz (now fixed), CPU A Whine (now fixed). They basically fixed all the issues in this machine, but were four days over their expected return time.

I'm not saying their support is totally crap, but they're certainly not consistent in performance, technical knowledge, friendliness, or even coverage. I was talking to a friend about "what I'd do if I were Steve Jobs," and the first thing we agreed on was to fire the entire AppleCare department, and all the genius', because they all seem to suck.

But hey, my iBook G4 and MacBook are fine...
---
FC Barcelona booked their
Amazing Iceman
Mar 31, 05:35 PM
I completely agree, but let's be honest, Apple and Microsoft fans are no different.

One important fact to consider:

"If there were no fans, there would be no game!"
---
Real Madrid – FC Barcelona:
Universal can take their catalog of music and shove it where
the sun don't shine.
---
Barcelona vs Real Madrid Cup
mr.steevo
Apr 25, 04:30 PM
Case in point: My GF has a few crazy stalkers who could find out from this data base where she actually spends most of her time. They are mentally challenged creeps who have no way to do this through hacking into ATT but they could steal her stuff at her public appearances. They actually showed up there.

Then she needs to speak with the police.
---
BTW, apparently this site is doing live blogging:

http://www.finalcutmtl.org/2011/04/10/supermeet-live-sur-final-cut-mtl

That's about all I could find.

And for you english-only forum members, here's the translated version:
http://translate.google.com/translate?hl=en&sl=fr&u=http://www.finalcutmtl.org/2011/04/10/supermeet-live-sur-final-cut-mtl&ei=rsmkTfiKLsL-rAHd44WGCw&sa=X&oi=translate&ct=result&resnum=1&ved=0CCEQ7gEwAA&prev=/search%3Fq%3Dhttp://www.finalcutmtl.org/2011/04/10/supermeet-live-sur-final-cut-mtl%26hl%3Den%26safe%3Doff%26prmd%3Divns
---
regandarcy
Apr 5, 05:48 PM
New iMacs would be great. Let's not forget new MacBook airs. They need sandy bridge and thunderbolt too! :-)

Doubt it will be MacBook airs. But updating the iMacs along with the new final cut pro does make sense.
---
This is Bowl *****!!! Come on man....I see these claims with absolutely NO, ZERO proof to back it up...Links? Pics? Video???? IF anything, MORE people have joined the FCP camp...because more people than EVER are buying Macs! Even though Adobe and Avid are cross platform, the affordability of FCP is a real bonus. Everyone I know that uses FCP and has been using FCP has ZERO interest in flipping. Unless you have an extreme PC...Adobe makes no sense (unless you are using the Quadro nVidia cards in a Mac Pro). Sure, the Merc engine increases performance for a few transitions and filters....but rendering is still necessary in MOST cases! Today's speed of the new Macs....MBP, iMacs, Mac Pros...makes the transition from AVC, XDCam, DVCPro, etc to Pro-Res, is actually a very speedy process. Even Canon stepped up last spring with a plug in to increase transcode speeds almost a 1,000% (used to take a minute or two to transform...now done in 10 seconds or less!!!). Once in Pro Res, editing is an absolute breeze...a cake walk, easy as pie:) Especially if you have a recent generation Mac from the last couple of years.

Now...that said, absolutely, I totally agree improvements can be made. As mentioned many times....media management and better integration between other programs in the suite. However, being a long time FCP user, I'm "used" to the export/share option and don't find it too difficult.

Motion is the program I would like to see take a big step forward. I am also a heavy Adobe user and have the entire CS5 Production bundle...but NOT for Premier...I solely use PhotoShop and After Effects. AE has been my go to animated title compositor. Motion, while decent...is certainly behind the eight ball in comparison to Avid and AE for these tasks.

However...most, if not ALL of the pros I know that have been using FCP continue to do so....and there are more motion pictures, BIG ones...this year, edited on FCP than I can remember in years past. Pulling this BS out of your arse is crap. The iToy phenomenon, in my very humble opinion will actually HELP the Pro Apps...as Apple is making more money than EVER!!! This will afford them the expertise they need to develop the pro apps...more so than they've ever been able to do in the past. Keep in mind...for these iToys to be great, they need content....and again, IMHO...I think Apple knows this, and would be happy if every app, movie, song, etc...that resides in iTunes, Mac Store, App Store, etc....was created WITH their soft/hardware as well. Again, just my opinion....Apple won't shoot themselves and the entire creative community in the foot....just when they've becoming the HIGHEST gaining computer sales platform in the world!!! They're selling more computers (MB, MBP, MBair, MP, iMacs) then EVER...and I attribute that somewhat to the excellent user experience so many folks have had with their "iToys". You gotta figure some of those folks will be "Pro" creative guys. And enticed they will be (my Yoda impersonation) by the hardware and software that Apple offers....so if anything, there is Growth in the Pro sector...hardware and software both. NOT a mass exodus. Again...if you truly have proof that "All those Pros have already left Mac"...I'm all ears. If anything, they've made significant gains. Hence the reason AVID has DECREASED their pricing from the astronomical rates it used to cost...and the proprietary rigs you had to have to run the program.

Sorry for the rant. But what you've stated is absolutely NOT true my friend. Period. And THAT is a fact! If you're deciding whether or not to stick with FCP, cool...fine to make that point. Don't make up BS about other "Pros" and their Post Workflow. Other than the BBC switching to Premier, I can think of NO other real, true professionals that have abandoned FCP because it's lacking. It's still a VERY powerful program. Getting older, several places to shine it up, but it still does the job and does it well.

J


I don't need links, videos, etc. to prove my point. I know it's the case, because I've seen it with my own eyes. And frankly I don't care to impress you with pointless links and statistics. I am a professional, and I work with professionals, and several of them have already switched to Premiere. That, my friend, is a fact, and it's all I need.
---
bigmc6000
Aug 11, 11:51 AM
I really really really hope they just go in with a carrier on this (of course requiring Cingular to not cripple the functionality). There's no way in the world Apple would make as much money off of this as if they got in with one of the big guys. Just ask Disney - ESPN mobile is bombing as is Disney mobile. It doesn't work. And most of those you have to pay retail price for the phone - screw that. I'm going to be with Cingular anyway I might as well get them to take $200 off the phone for me.


PLEASE STEVE, GO WITH CINGULAR!!!!!!!

Note; I'm just saying Cingular since they are the only ones who really seem interested in offering iTunes on their phones...
---
topmounter
Apr 6, 10:37 AM
"integrated graphics"... "good enough" LOL... I think I'll keep my current-gen 13" MBA. I didn't buy the world's most expensive netbook for "good enough".
---